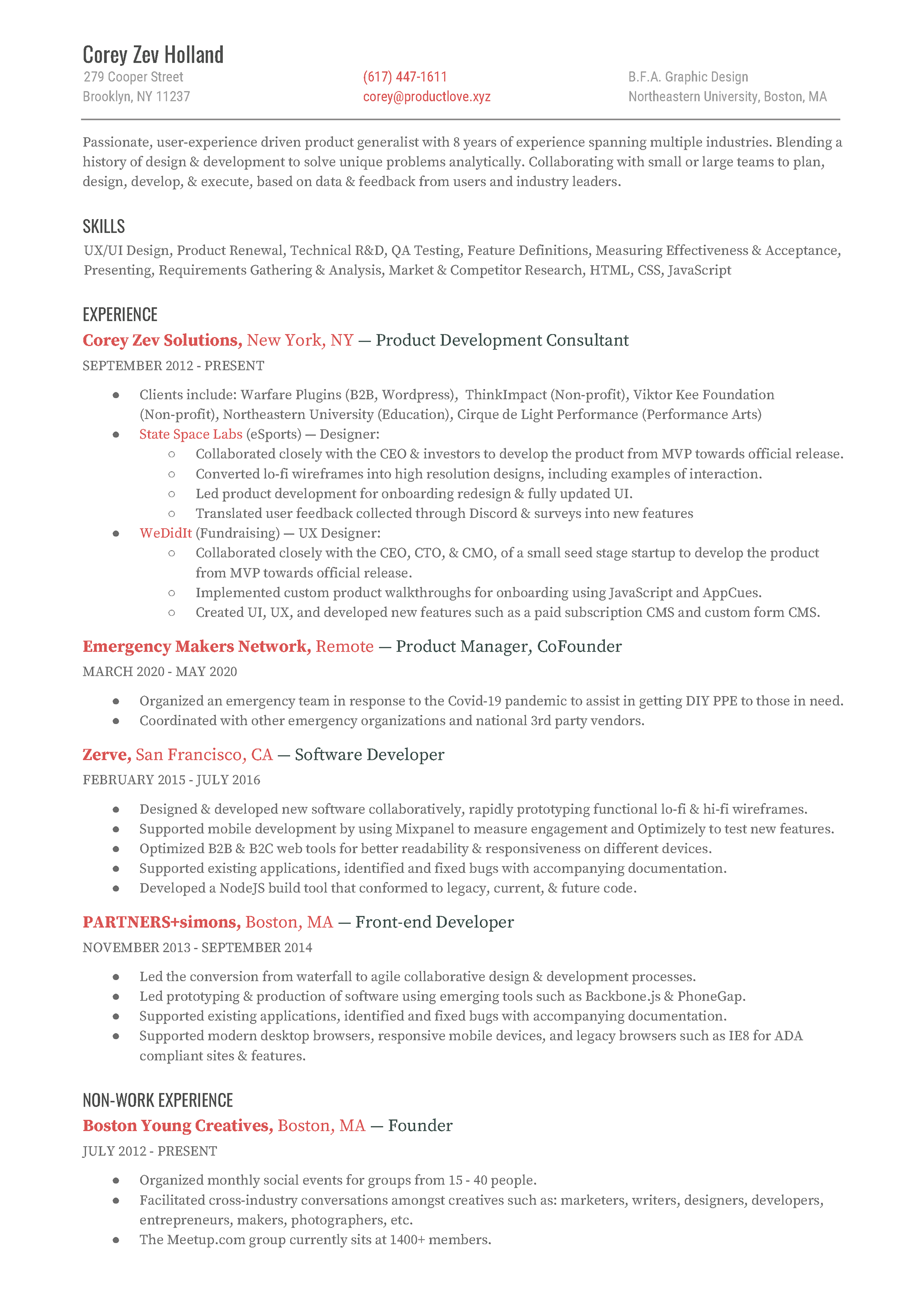 Northeastern University
Bachelor of Fine Arts, Graphic Design
Graduated 2011
Owner - Corey Zev Solutions
September 2012 – Present
* Clients include: Warfare Plugins (B2B, Wordpress),  ThinkImpact (Non-profit), Viktor Kee Foundation (Non-profit), Northeastern University (Education), Cirque de Light Performance (Performance Arts)

* State Space Labs (eSports) — Designer:
- Collaborate closely with the CEO & investors to develop the product from MVP towards official release.
- Convert lo-fi wireframes into high resolution designs, including examples of interaction.
- Lead product development for onboarding redesign & fully updated UI.
- Lead rebranding effort featuring logo testing, new website design, & social media.
- Translated user feedback collected through Discord & surveys into new features
* WeDidIt (Fundraising) — UX Designer: 
- Collaborate closely with the CEO, CTO, & CMO, of a small seed stage startup to develop the product from MVP towards official release.
- Implemented custom product walkthroughs for onboarding using JavaScript and AppCues.
- Created UI, UX, and developed, for new features based on user needs & C-level requests. (Such as a paid subscription CMS and custom form CMS).


Product Manager & CoFounder - Emergency Makers Network
March 2020 – May 2020

* Organized an emergency team in response to the Covid-19 pandemic to assist in getting DIY PPE to those in need.
* Coordinated with other emergency organizations and national 3rd party vendors.
Founder & Organizer - Boston Young Creatives
July 2012 – Present
*Organized monthly social events for groups from 15 - 40 people.
* Facilitated cross-industry conversations amongst creatives such as: marketers, writers, designers, developers, entrepreneurs, makers, photographers, etc.
* The Meetup.com group currently sits at 1400+ members. 
http://www.meetup.com/Boston-Young-Creatives/
Software Developer - Zerve
February 2015 – July 2016
Developing new ideas and maintaining the website of the top activity booking and sales platform. Working with a small distributed team of developers & designers to prototype rapidly and deploy new features. Stayed with the company until it closed.
Seller Software Refresh: I was part of the team to execute the new designs using minimally invasive CSS & HTML on top of a decade old platform in desperate need of a facelift. 
Responsibilities: 
- Structure new Less styling & files in modular fashion 
- Identify patterns in the designs and implement them as reusable code 
Tech used: HTML, LESS, PHP, Javascript

Build Tool: Most popular build tools like gulp & grunt are more suited to single page apps, we needed something that could compile code for multiple sections discretely. 
Responsibilities: 
- Identify and optimize for pitfalls of our current method: maintainability, speed, flexibility. 
- Build tool so that it could read an opinionated file system and compile .js & .css files based on folder hierarchy. 
- Add watch & deploy commands, as well as single project specificity. 
Tech used: Node.js on Unix

Responsive Calendar & Event Selection Page: A complete update to our seller event listings, which needed to have a datepicker & lots of dynamic content. 
Responsibilities: 
- layout, style (based on design specs), and program, a responsive page for sellers with over 250 events. 
- keep styled datepicker modular so it can be reused on other pages 
- keep JS performance optimized while constantly refreshing the DOM with dynamic content 
Tech used: JavaScript, HTML, CSS, PHP
Front-end Developer - PARTNERS+simons
November 2013 – September 2014
Partners+simons is a brand communications company that generates unambiguous business outcomes for clients in the health, financial services and technology sectors. Clients like AIG, BlueCross, & AmeriHealth.

B.Braun Product Demo: Create an interactive tool for sales reps to use when on the road engaging clients. 
Responsibilities: 
- Implement designs into a modular framework which was slide-based and touch sensitive. 
- Using Backbone.js, control various views & containers 
- Create a powerpoint-like interface with gesture controls 
Tech used: JavaScript, iOS, Backbone.js, Marionette.js, HTML, CSS

Other responsibilities include collaborating with designers on new products. web development projects, often supporting IE8.
UI Engineer - Scholastic
August 2012 – November 2013
Doing front end development, information visualization design, and document design, for the Hosting & Operations and Enterprise Services departments. Working with engineers and management, to put together visuals which would serve as a portal of information for external departments. 
Tech used: Javascript, HTML, CSS, Backbone.js, Python, Flask, Splunk, D3
Front End Engineer - nSphere
August 2011 – March 2012
Performing development and design duties as the company upgrades existing products, as well as implementing new products. Launched new corporate website & local search tool. 
Tech Used: JavaScript, HTML, CSS, PHP, CodeIgnitor, Python
Design & Development - PullnotPush Marketing
July 2010 – September 2010
Working with a web startup in a mostly digital environment. Focusing on digital marketing, email, webpages. Hubspot Certified company. 
Used: HTML, CSS, JavaScript
Graphic Designer - Nuance Communications
February 2010 – June 2010
Dragon NaturallySpeaking
. A co-op position in the marketing department working with digital, physical, and multimedia marketing. Email marketing, data sheets, and video projects. 
Used: HTML, CSS, JavaScript, Adobe Creative Suite
On Campus Product Ambassador
Microsoft, Boloco, Olivia's Organic Salads, 80108
2006 – 2010
Used personal interaction in a guerilla format to introduce or engage a target with product samples. Clients: Microsoft Zune, Boloco Burritos, Olivia's Organic Salads, 80108 Media. Coordinate events and educate potential customers.
Software Specialist, Instructor, Graphic Designer, Customer Service
Northeastern University Libraries: Digital Media Design Studio
July 2008 – February 2009
Assist users of the computer lab with software. Troubleshoot, consult with, and instruct clients in software such as Adobe CS3, Final Cut Studio, and Apple iLife. Organize and teach workshops for students, staff, and faculty, as well as update registration and attendance counts. Create flyers and brochures for this department as well as others in the library.
Used: HTML, CSS, Final Cut, Adobe Creative Suite